Since the CO line is basically dead in the water, I've started messing about with a free 3D Printing program called
Tinker Cad
to start creating my own custom 5" scale figures. So far, I've been pretty impressed with what I've been able to create. My goal is to come up with
the highest quality figures possible for classic series robots and aliens not yet commercially available, that anyone with access to a 3D printer can make for themselves.
I'll keep posting to this thread as I complete designs, though please note that some designs may be more complete than others, and assembly (plus the occasional addition of 5mm x 40mm springs, rubber bands, or other simple additions) is often required. I've got a thread over in the regular 5" section that I'll only be updating when I have finished designs ready for printing:
http://doctorwhotoys.net/forum/viewtopic.php?f=6&t=415
IMPORTANT NOTE: If I see other people selling any of these designs on eBay, I will immediately stop sharing the templates. This is a fan project, not a business venture. Play nice.
I will also take down any designs that later get released as official CO figures (at least in the 5" range) because I do not want to take away from our ability to get good quality official figures in the future.
Now that that's out of the way, lets kick things off with:
001 - Alpha Centauri
Status:

Printable, but needs minor finishing work.
3-D Printer template: https://www.tinkercad.com/things/bFpODXgFZUQ-doctor-who-alpha-centauri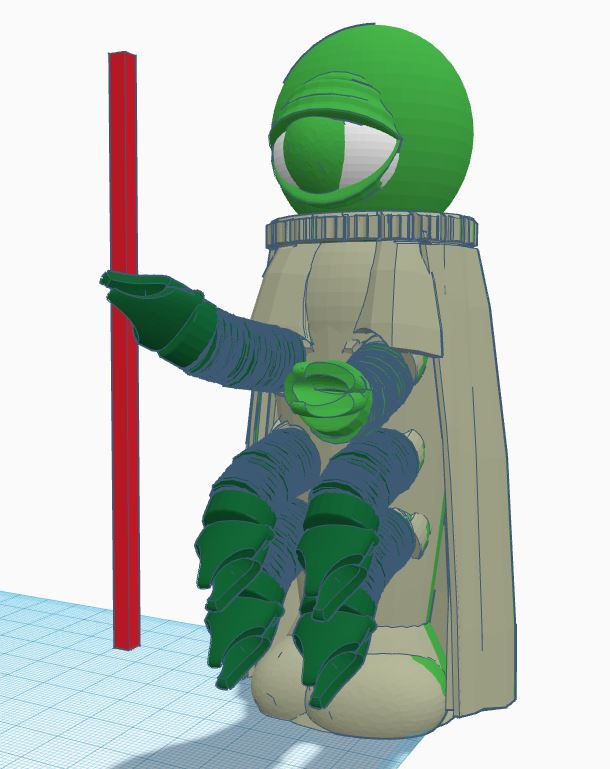 Notes: This was my first prototype, but I've gone back and majorly tweaked the design to remove the old ball joints. The version available now is about 99% complete. I'm just playing around with it a tad to eliminate some minor problems where pieces don't fit together exactly as perfectly as they should.
002 - Quark
Status:

TESTED COMPLETE. READY FOR PRINTING.
3-D Printer template: https://www.tinkercad.com/things/0W8uZQmdI0z-doctor-who-quark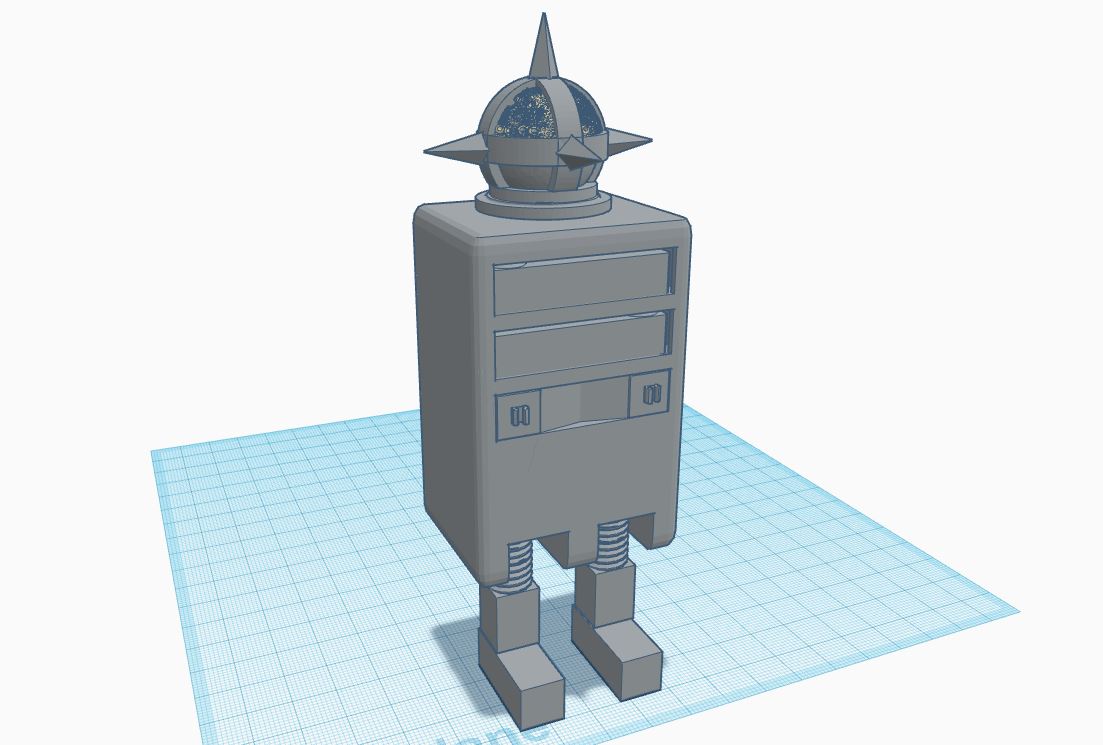 The "eye tubes" are more like sticks, because my printer gets all wibbly trying to get to that level of fine detail, but overall, this design is pretty much as good as it can get. The arms move, the head rotates, and I've swapped out the spring legs for snap in hinge joints that will allow it to walk and bend over. Printing the head at 100% fill gives a nice clean print without having his spikey tips melt off, which was a major problem before. I may tweak the neck joint just a little bit more to create something that will snap together and then not come apart afterwards.
I have also added a modular background wall and a Quark drill accessory because both were fairly simple designs.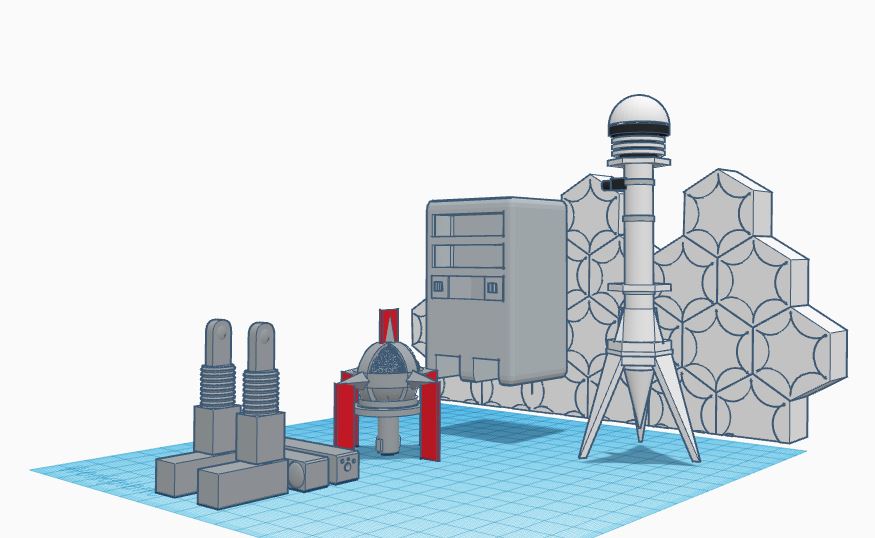 003 - Chumbley
Status:

Printable, but needs additional finishing work
3-D Printer template: https://www.tinkercad.com/things/a3teaCTSpaV-doctor-who-chumbley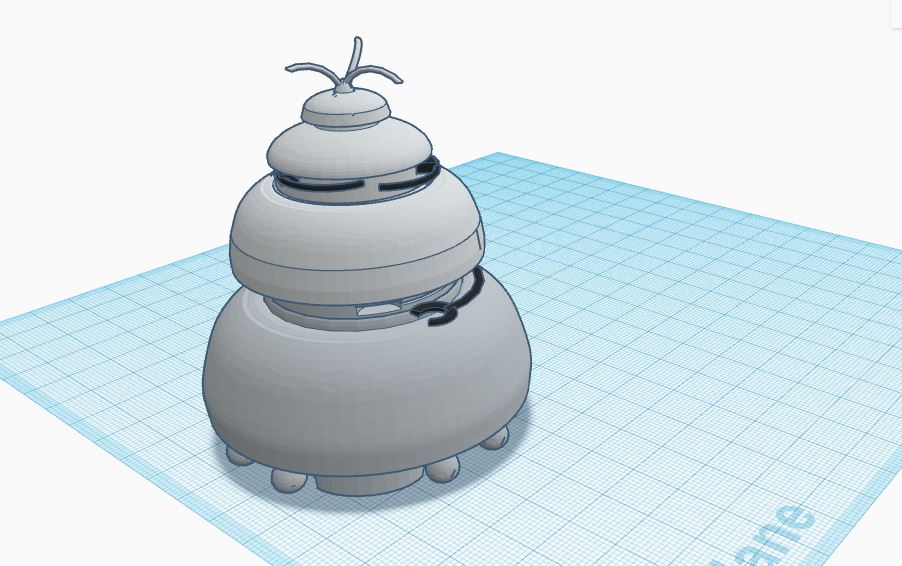 This currently uses the problematic 4cm springs as the old quark design, but I'm going to change it to a nested peg system so that the top and middle sections can rise independently. In the current version, the three arms sort of work, but I have to do a lot of fiddly messing about with wire cutters to get them to just the right size. (if I print them smaller, they come out stringy)
004 - SIDRAT
Status:

Printable, but needs additional finishing work.
3-D Printer template: https://www.tinkercad.com/things/cKLc7hAWYbb-doctor-who-sidrat-travel-capsule/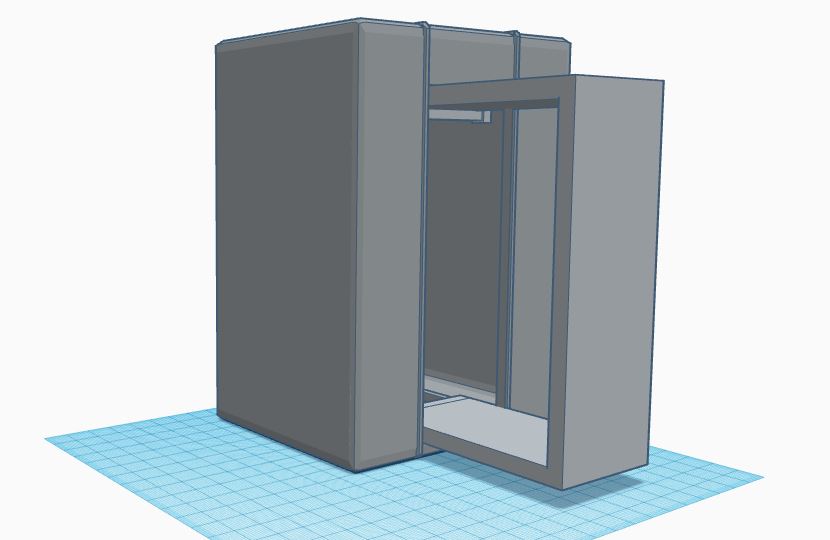 This is a large, but fairly simple design. The door is on a track so it should slide freely, but not pop out when fully assembled. Based on color descriptions, this one is supposed to be a dark green. Due to the massive size, this model takes almost a week to print in its entirety, and is too large for mini 3D printers. My first test printing works fine, but the sliding door is a little stiff.
005 - Larvae Gun
Status:

TESTED COMPLETE. READY FOR PRINTING.
3-D Printer template: https://www.tinkercad.com/things/djTwJ8cxqJD-doctor-who-larvae-gun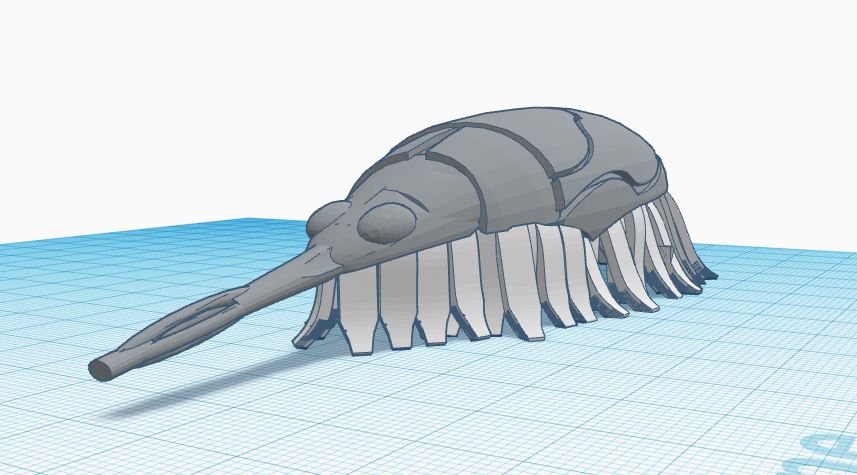 Another quick one. No movable parts. I recently saw a color photo and learned that they're supposed to be brown on top and a sickly yellow on the bottom. I've slightly increased the size and shored up the bottom half of the design to help prevent legs from snapping off and give it a smoother underbelly.
006 - Dalek Time Machine
Status:

Having problems, needs work.
3-D Printer template: https://www.tinkercad.com/things/8V1aquWX0Qa-doctor-who-dalek-time-machine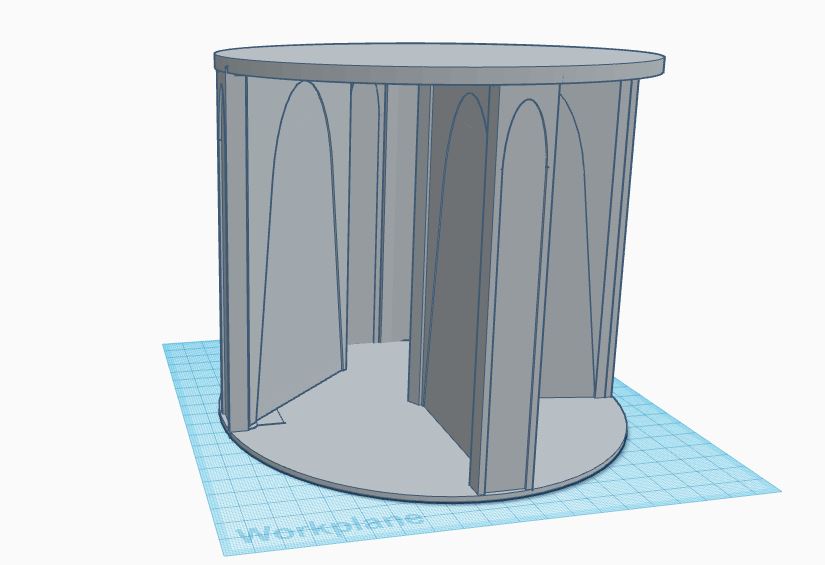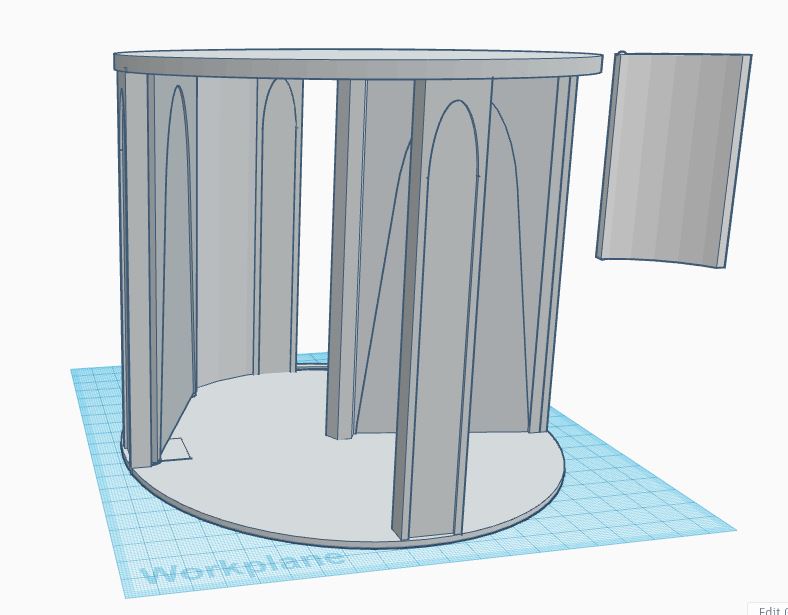 Another quickie to make, but will take a solid week to print. This one is designed to have a movable door in the front and a removable panel in the back so you can replicate the "infinite line of Daleks" from
The Chase
. In practice a lot of things went wrong on my prototype, so I need to make some adjustments. Unfortunately, this one takes a solid week to print, regardless of whether I've gotten my sums right, so I won't be going back to it again right away.
007 - Zarbi
Status:

TESTED COMPLETE. READY FOR PRINTING.
3-D Printer template: https://www.tinkercad.com/things/jwJ418s1CDz-doctor-who-zarbi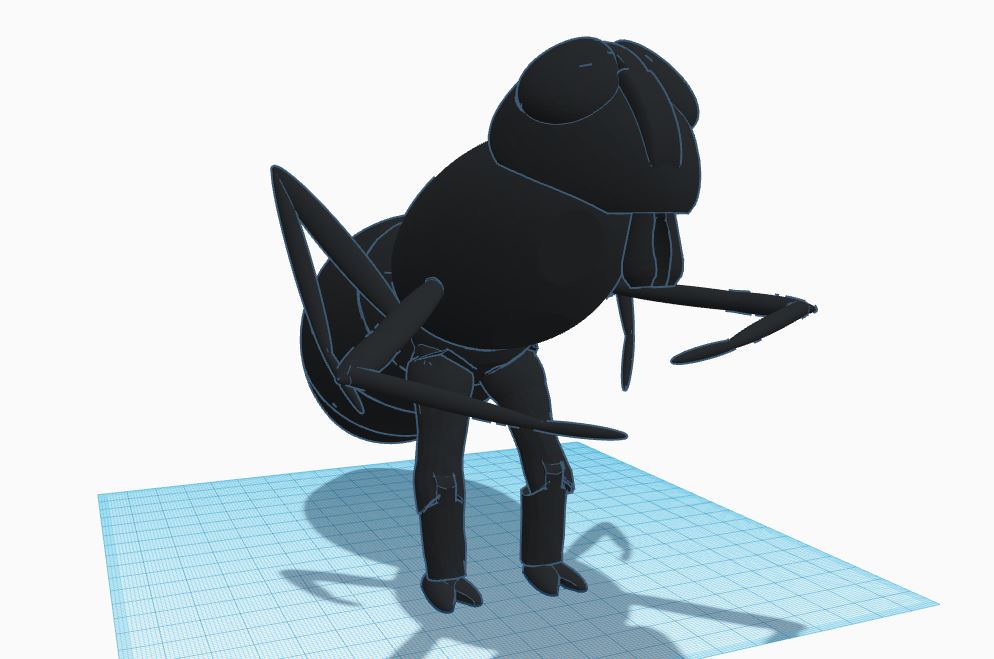 This is a major leap forward. Now that I know I can make leg/elbow joints, this opens up a whole range of possibilities for future figures. I've wanted a Zarbi for a long time, and am absolutely thrilled with how well it's turned out.
008 - Dalek Hoverbout/Trans-Solar Disc
Status:

Having problems, needs work.
3-D Printer template: https://www.tinkercad.com/things/l7efTyIDDLO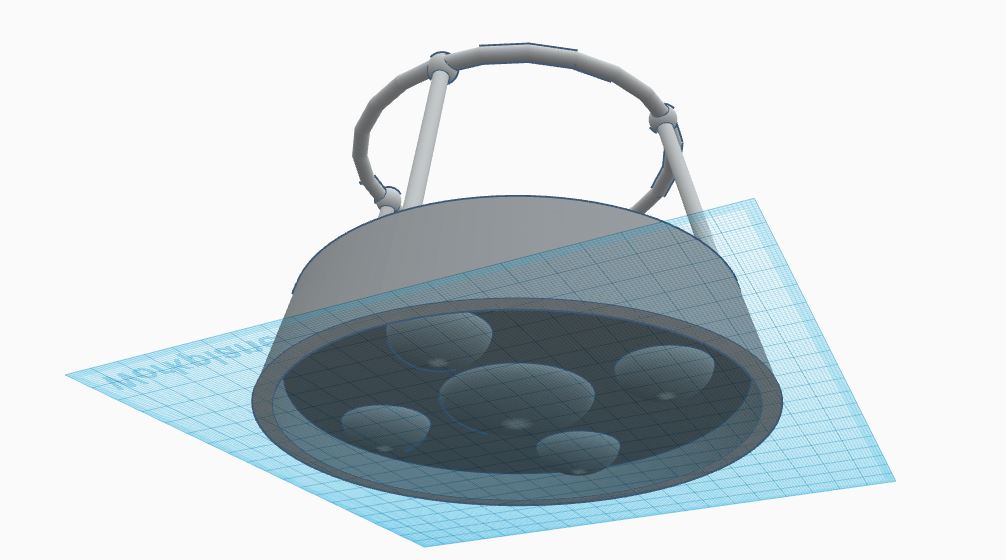 Someone on Facebook requested a Dalek hoverbout from the old TV Comics, and since it was a super simple design I decided to oblige. While never
technically
featured on screen, one did menace Susan in
30 Years in the TARDIS
, so I went with that as the most 'canonical' design. I've been having lots of problems getting the railings on this one to print correctly, but it may or may not be because I picked up some bad filament.
009 - Servo Robot
Status:

TESTED COMPLETE. READY FOR PRINTING.
3-D Printer template:

PRIVATE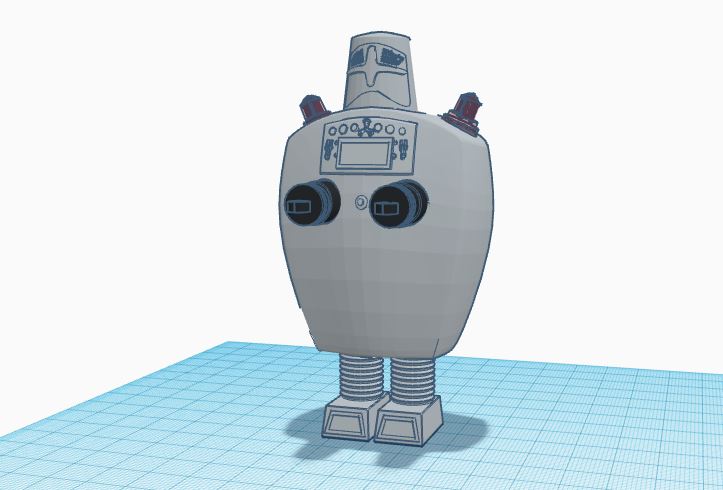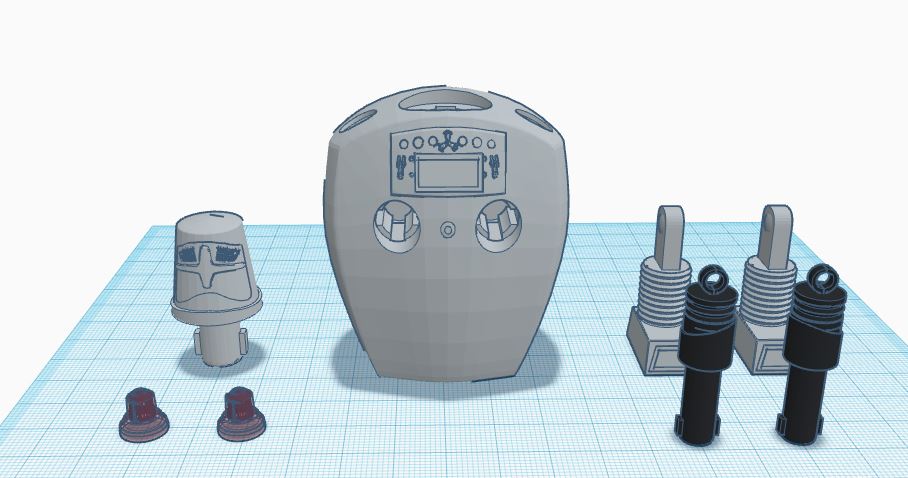 Good news, bad news. I found a premade scale Servo Robot model over on Turbo Squid, that only required minor modifications to transform into a toy:
https://www.turbosquid.com/3d-models/servo-robot-doctor-wheel-3d-model/499600
. The bad news is, because it's somebody else's design, I won't be sharing the plans on this one. I've adapted the design to include see-sawing legs like the Quark, and am experimenting with an arm design that I hope will allow the arms to extend and retreat into the body.
010 - Exxilon Root
Status:

Printable, but needs additional finishing work.
3-D Printer template: https://www.tinkercad.com/things/3AreE7zUktp
Aka the deadly corrugated pipe monster from
Death to the Daleks
. Currently, the body is printed out of several snap-together segments which allow it to twist in an appropriately snakey way. My printed version has 6 segments, but you can print as many as you like. I'm still fine tuning the new snap-in plug assembly, but the figure is printable. I've also built a little fake rock stand that you can connect the base to so it doesn't have to sit on the ground.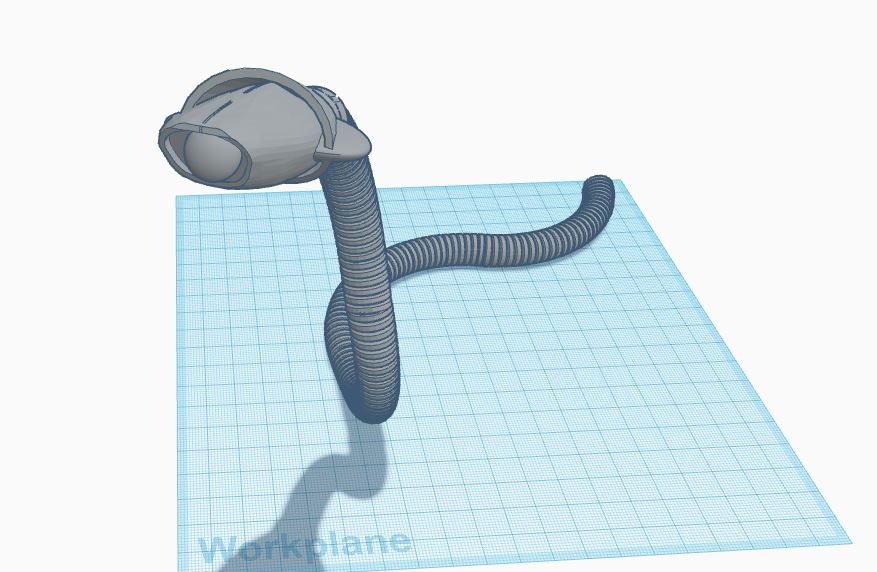 011 - Dalek Transmat
Status:

Untested, may need work.
3-D Printer template: https://www.tinkercad.com/things/3eu49Ft3IhM
An easy design from
Remembrance of the Daleks
that I created while waiting for my other stuff to print. The access panel pops open and there are some fake circuits inside. You can add your own fiber-optics. I may create an alternate version that can accommodate LED lights at some point.
War Machine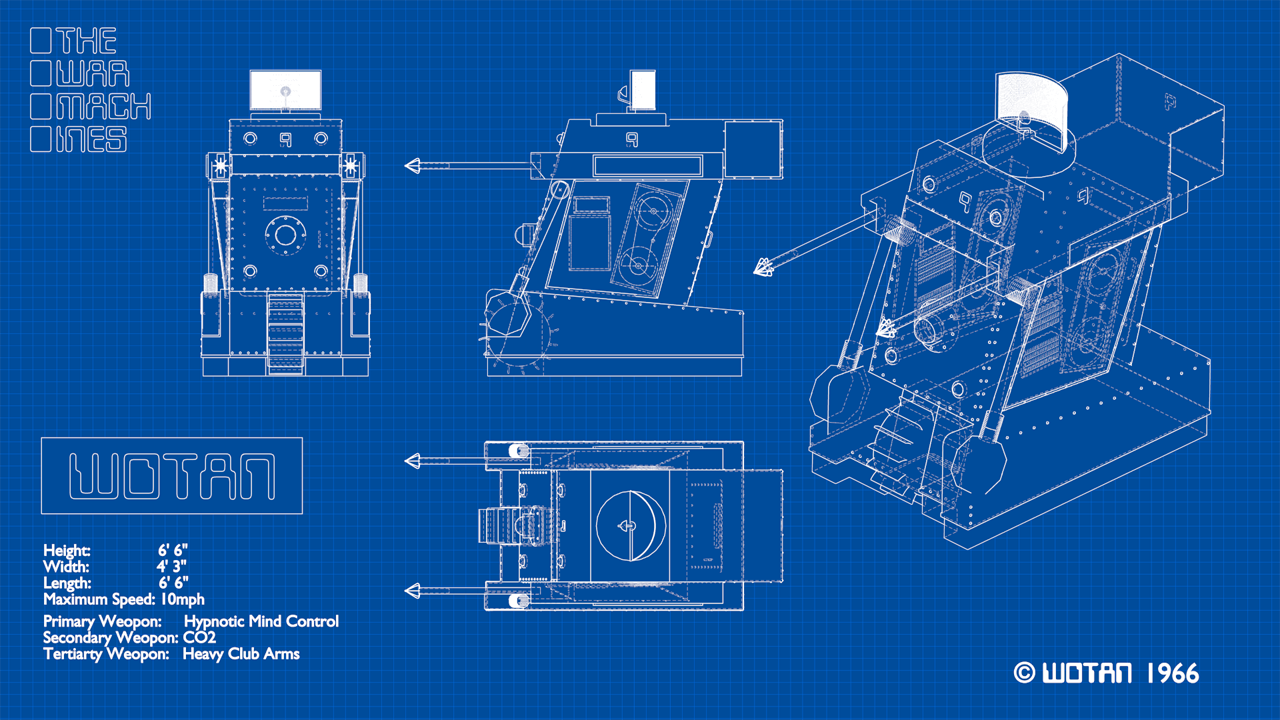 I've got a great idea for how to make the thwomping arms and radar dish rubber band powered like the old Mego toys, and I might even be able to make the base compatible with Go-Brix so that you can have the choice of either pushing it along or making it remote controlled!!! This project is going to be large enough that it will have to be modular and glued together, but assembly shouldn't be too complicated. The amount of detail involved does mean that this one is going to take me a while to finish.
My to-do list

(in no particular order)
WOTAN

from

The War Machines

. More or less just a big solid box with a few buttons and tape reels similar to The Master's TARDIS from the

Time Monster

set. I figure I'll tackle this one once I finish the War Machine so they can be part of the same set.



Wirrn

from

Ark in Space

. A very difficult build, but made slightly easier since I have a model designed by someone else that has the proportions right but a really low polygon count, which I'll be able to use as a "skeleton" to create something that's printable quality. I also want to turn it into a finger puppet, if at all possible.



Kroton

from

The Krotons

. Now that I can do articulation, this one is a difficult build, but definite.



Cleaner Robot

from

Paradise Towers

. Same as above. Difficult enough that it'll take some time, but nothing I can't handle. Depending on the overall size, I may look into making this one GoBrix compatible for RC movement.



Keller Machine

from

Mind of Evil

. Cylinder on a box. This one should be pretty easy, except that part of it is transparent, and transparent things look horrible 3D printed. I'll hold off on this one until I manage to nab some T-Glase filament on the cheap, which is the closest you can get to printing something that actually looks like glass.



IMC Mining Robot

from

Colony in Space

. I'll see how the War Machine movement works out first. Should be very similar, though on a smaller scale.



Voord

from

The Keys of Marinus

. I have some rudimentary humanoid bodies that can be adapted now that I know how to do joint articulation. I'm still hoping to eventually find a model of a figure in a wet suit, since that would be perfect. The head will be a little bit difficult, but not impossible, assuming I can get the very narrow forehead prong to print.



Bellal/Exxilon Native

from

Death to the Daleks

. My experiments with trying to reproduce human faces to create a Dominator resulted in something that tragically looked about as good as Bellal's face. Slapping on some "sunglass" eyes and giving him a slightly more "piggy" nose should give me something approximating an Exxilon Native appearance. Smooth out the face a bit, print it dark red, and slap on a burlap cloak, and I've almost got two figures for the price of one.



Rutan

from

Horror of Fang Rock

. A glowy stringy blob. My print jobs tend to look like this when they fail. I'll probably end up creating one by accident at some point.



White Robot

from

The Mind Robber

. I used to think this one was too complex, but I think it's just about the maximum amount of detail and articulation I can get out of a figure. The hands may be problematic, but overall, I think this one is possible.



Emperor Dalek

from

Evil of the Daleks

. Massive, so I'd have to build it modular in several chunks, but geometrically not that complicated. I've got a couple of spare ISD1820 record/playback chips that I bought for another project, so who knows, this one may even end up with voice action!

DO NOT FIGHT IN HERE!





80's TARDIS Console

. I have a model designed by someone else that is just about perfect, though it needs to be rescaled and have some internal bits added so I can use a spring to make a central column that realistically rises and falls! Because it's someone else's design, I won't be making it public unless I get permission from the original designer.



Classic TARDIS Console

. This will likely happen as well at some point, but I'll save it until I've figured out a few tricks for movement and know how much fine detail I can realistically add to my models.



TYPE 40 Travel Capsule (without chameleon circuit)

. Another one that should be easy. Pretty much two concentric cylinders.
Possible

(If I get really good/ambitious):



Carnival Head Auton

from

Terror of the Autons

I've been downloading free humanoid meshes where I can find them. The face is fairly uncomplicated, and looks not too dissimilar from my test printings. The hard part will be the giant novelty head, but it's big enough I'm hopeful I can pull off the level of detail required, given enough time.



Yeti

from

The Abominable Snowman/Web of Fear

. This is mainly a case of finding suitable fur texture that can be rotated around a large humanoid body shape. I will probably attempt this one at some point, but it may end up looking like crap and having to be abandoned.



Krarg

from

Shada

. More or less just a yeti body covered in flat plates. If I create the one, I'll probably follow it up with the other. Sadly, nobody yet makes a thermoplastic that changes from black/grey or brown to red. It would be awesome to make one that could "glow."



Spirodon

from

Planet of the Daleks

. This one is a cheat. If I pull off the fur of the Yeti, this is essentially just an empty purple cloak that you can (maybe) pop a dead Spirodon face into.



Sensorite

from

The Sensorites

If I can pull off Bellal and his Exxilon chums, this one is probably also possible.



Optera

from

The Web Planet

It seems a shame to leave out the Menoptera, but I'd never be able to do the wings. Their caterpillar underground brethren may just be possible though.



Nimon

from

The Horns of Nimon

. The head would be the hardest part to sculpt. Otherwise, I could adapt a Voord body and slap on some hooves.



Raston Warrior Robot

from

The Five Doctors

. Just requires I find a suitable "skinny athletic" humanoid mesh.



Mire Beast

from

The Chase

I have a couple of octopus meshes I've downloaded. If I find one that works, I may adapt it, but it'll be a low priority.



Ogri

from

Stones of Blood

. It's a rock. And it glows. This may be attempted if I find some cool semi-transparent filament that looks suitably creepy lit up from within by some easily obtainable LED part.



Macra

from

The Macra Terror

Big stupid looking crab built onto the back of a Volkswagen. I have some crab meshes I've downloaded, this one may also be possible, but it'll be a low priority, especially as good source images are hard to come by.



The Whomobile

. Massive and lots of work (plus I'd have to find a reliable way of printing transparent for the cockpit) but I may eventually attempt it since I've always wanted one.



Drathro

from

Mysterious Planet

. Angular, but lots of points of articulation and the hands look complicated. Also, some of those curved sections may be hard to pull off.



Rills

from

Galaxy 4

It would be nice for my Chumbleys to have some pals. This one would be entirely dependent on me getting proficient with Scupltris, but the fact that they don't move at all is a plus



Vervoid

from

Terror of the Vervoids

Another ambitious build that's just about possible if I use all my abilities, but may end up looking like crap and having to be abandoned.



Gods of Ragnarok

from

Greatest Show in the Galaxy

Seems simple enough, but there are a lot of folds in their robes. I have no doubt it would print okay, but creating the mesh is the hard part.



Kandyman

from

Happiness Patrol

Again, lots of fiddly fine detail that may not work out, but I may attempt it just because it's another figure I've always wanted!



Meglos

from

Meglos

It's just a bloody cactus. If I really start getting desperate for figures, I may make one.



Plasmaton

from

Time-Flight

The absolute worst monster ever featured on Doctor Who. I may make one at some point just as an April Fool's joke.
If anybody has any other ideas for monsters/robots/aliens with geometrically simple designs, I'm open to suggestions.