For anyone interested,
this fellow
has started a YouTube build diary for assembling and painting the 20th Anniversary TARDIS console based off my design. (Sorry about the weird extraneous red piece, dude. I obviously forgot to remove it when I was zipping up the STL files.) He's now up to day 6, and it already looks better than mine in most places, especially the Time Rotor and door lever.
Seeing someone else have to assemble it makes me feel a bit guilty, since there are some functional changes I plan on making to the final version, but haven't gotten around to yet, so he's going to have to go through all the hassle of making the LEDs fit with the old cramped interior layout, and deal with the wonky lopsided spring drive.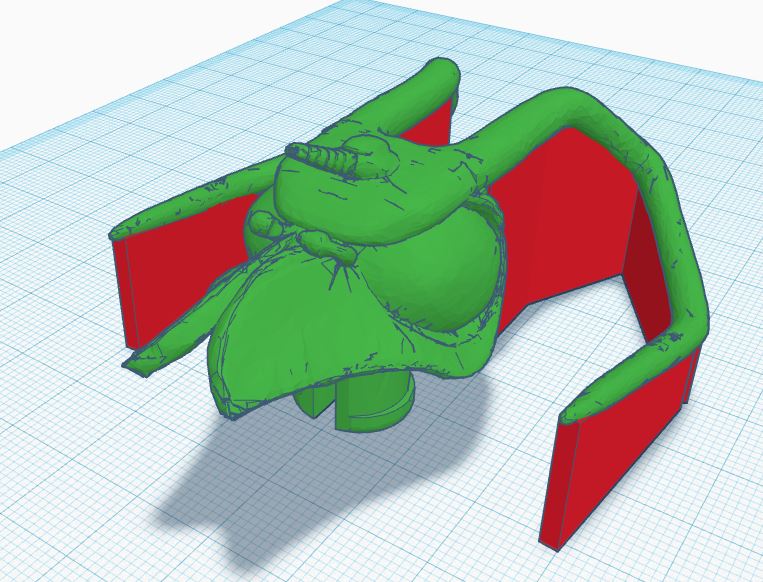 I've got the HD printer test printing the new fatter version of the Wirrn head now. I should know in about 24 hours whether it turns out okay. (or sooner, if it self destructs like the last version.) I still haven't separated out the top antenna layer because I'm really hoping with some extra cut-away supports, I can keep it all one piece.
I also discovered that there is something seriously geometrically wrong with the top set of Wirrn legs, that causes it to spawn some sort of horrible fractal cancer that sends the polygon count through the roof and makes it impossible to import back into TinkerCAD. Luckily, I'm pretty sure I can adapt the middle legs and nobody will be able to tell the difference (and I may still end up having to completely redesign them to print flat anyways.)
We're getting closer. I'd really like to get this one done so I can move on to more fun stuff.