Moderator: CaptainJimiPie
Posts: 1247
Joined: Fri Jun 10, 2016 12:50 pm
bluehinter wrote:
Wow, that's crazy. I can only imagine how big this is going to end up.
Life's too short to engage with chuckleheads.
---
Posts: 270
Joined: Thu Jan 05, 2017 6:45 am
skifflebits wrote:Wow, that's crazy. I can only imagine how big this is going to end up.
Oh, somewhere around 24" across, 15" deep, and 16" tall.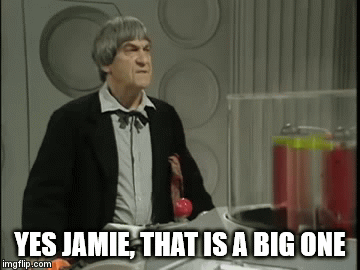 ---
Posts: 270
Joined: Thu Jan 05, 2017 6:45 am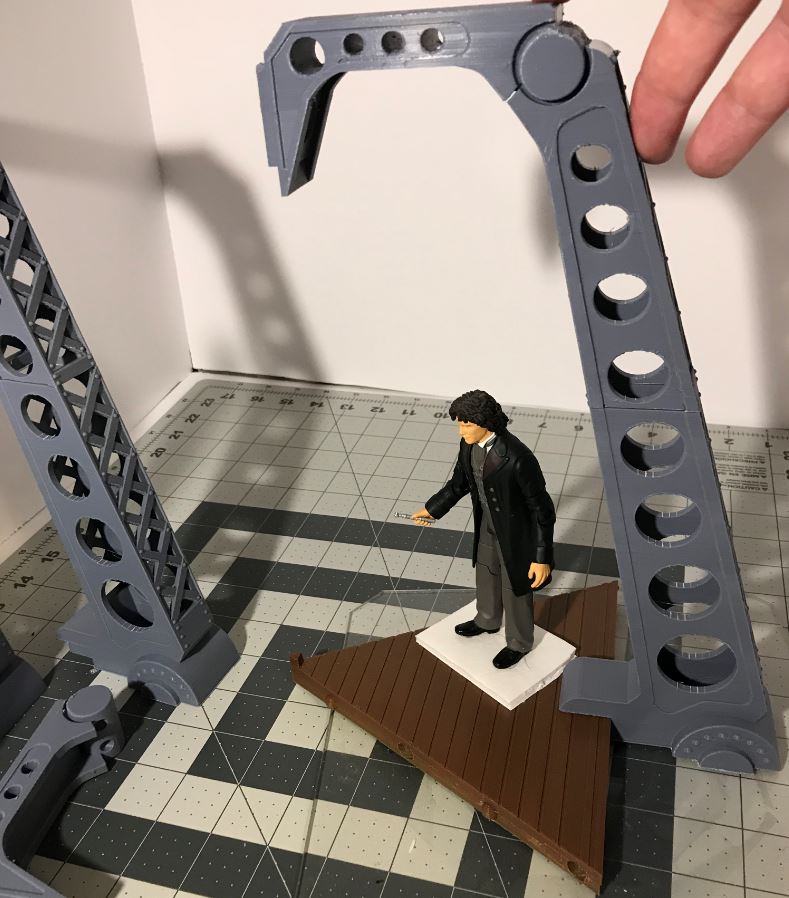 The first floor section printed fairly well on the SD printer, aside from a really odd discoloring effect from where it was in contact with the glass plate. I'm not sure if it's the filament itself, a chemical reaction to the hairspray, or what. It doesn't really spread more than a mm or two from the bottom, and since it's confined to the underside of the floor panels, nobody will be able to see it, but I certainly hope it doesn't do this when I print the top parts of the console later.
Hopefully, by then, I'll have the HD machine fixed, where I haven't noticed any discoloration issues on any of the previous PLA+ prints I've made.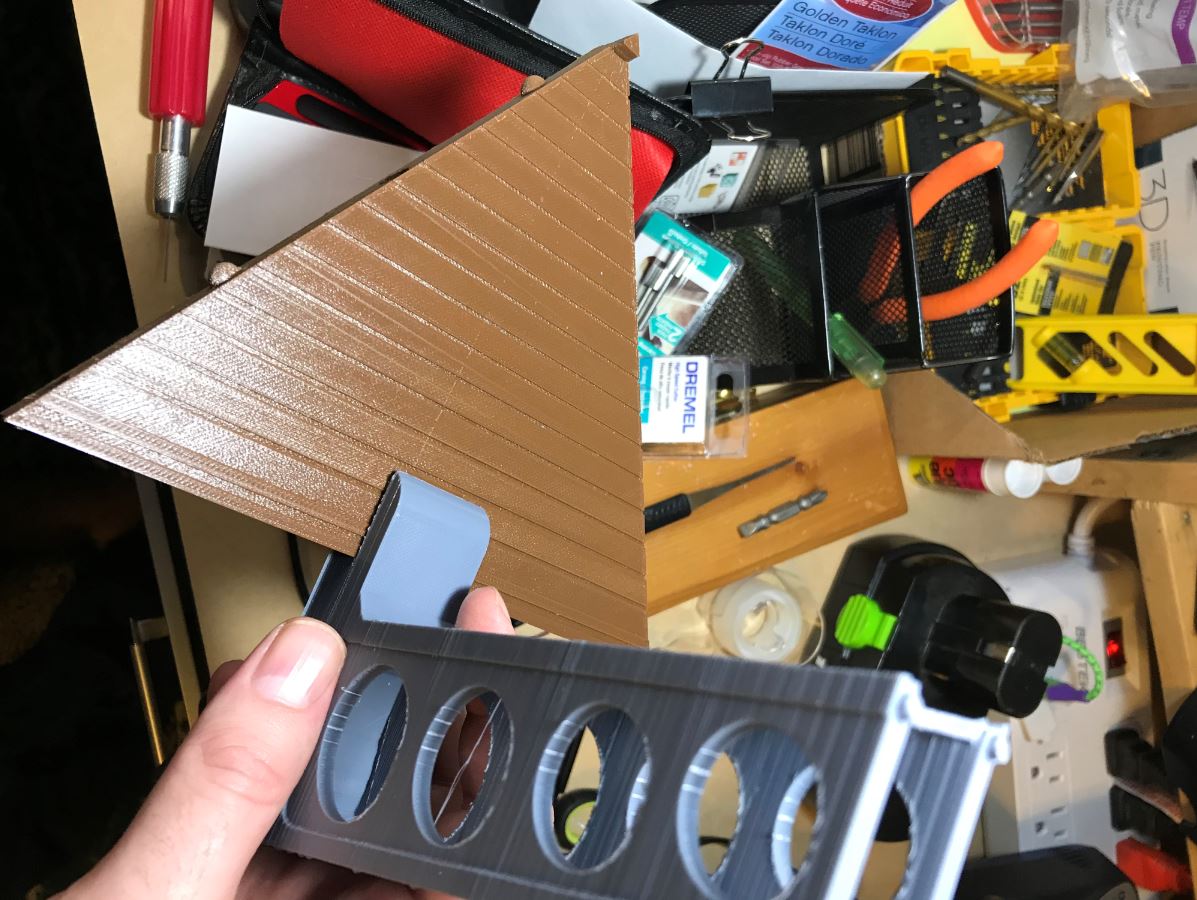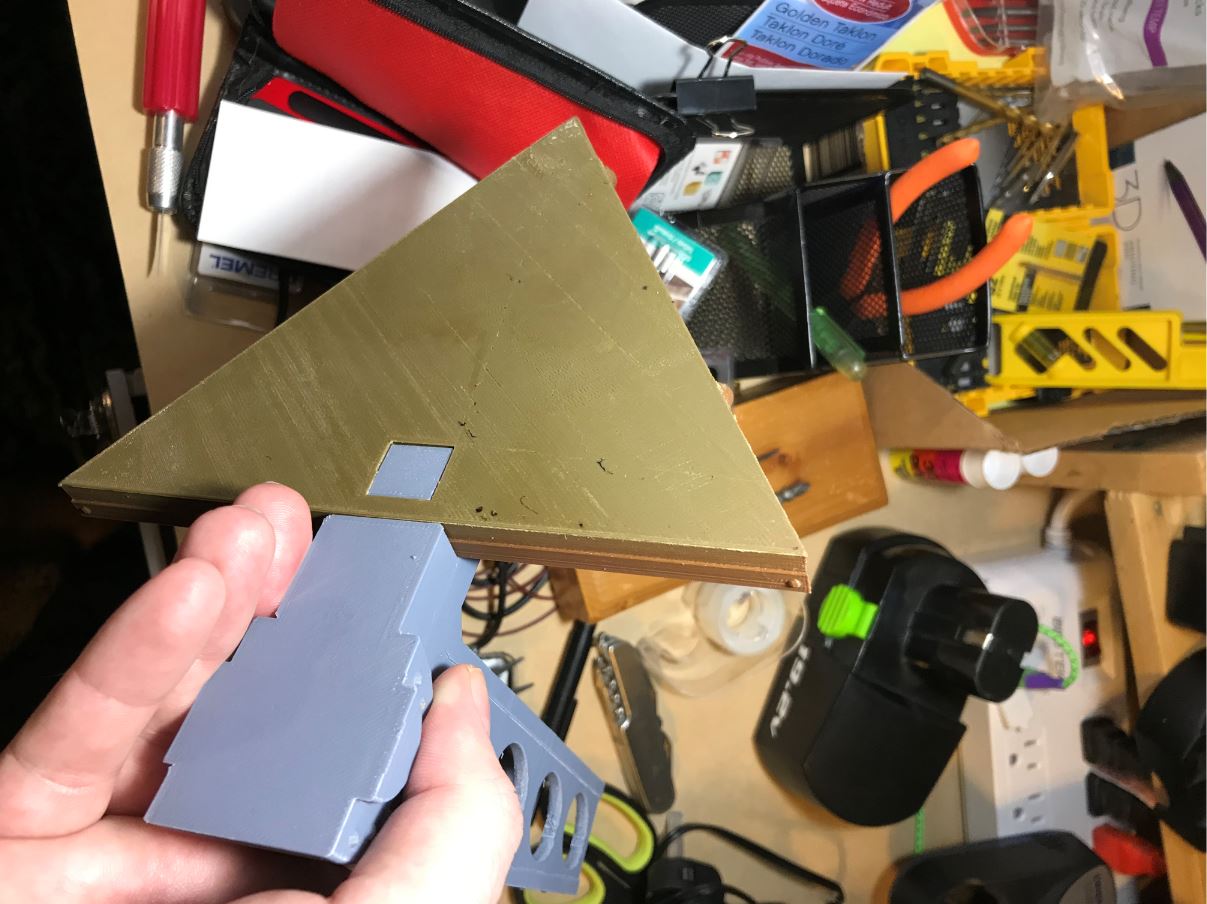 The discoloration reminds me of my old Star Wars toys that got left out in the sun. I'm pretty sure I had a Chewbacca that was that same sickly color of brown on one side.
---
Posts: 270
Joined: Thu Jan 05, 2017 6:45 am
Good news:
Everything's fitting together beautifully, and the off-the-shelf 22mm acrylic tube I bought on eBay for the Time Rotor looks to be just the right dimensions.
Bad news:
My HD printer is still offline awaiting some basic parts, but my SD printer just self-destructed in a pretty major way. I think I made a big mistake going with the Flexion Extruder upgrade, and while the BondTech upgrade I use on the other machine is prone to jamming when it's time to change out the filament, at least it prints reliably the rest of the time.
This is the second time the Flexion has essentially backed up all the way up through the guide tube into the extruder itself, ruining almost every part along the way.
I'm sick and tired of having to replace all these bits and pieces (which are weirdly proprietary to the Flexion extruder, and therefore 2 or 3 times as expensive) so I'm biting the bullet and swapping the whole extruder/heater/guide tube/block with a BondTech similar to what I use on the other machine.
It does mean hacksawing out a new hole for the guide tube, since this particular extruder mounts the opposite way around, but I'm pissed enough that I'm willing to give it a try. Unfortunately, I still have to wait for a replacement heating element and guide tube to come in the mail, so no more printing until at least the parts for the HD machine get here, hopefully over the weekend.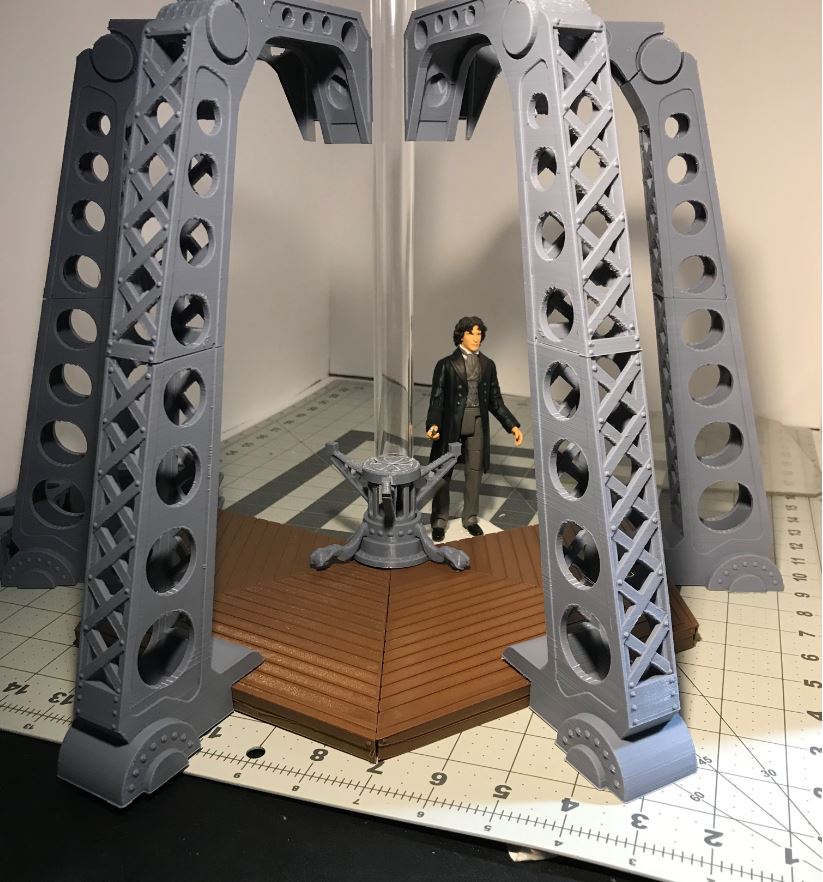 ---
Posts: 270
Joined: Thu Jan 05, 2017 6:45 am
Got the parts to repair the HD machine today and after replacing the heater (which needed replacing anyways since it's had a loose wire I've had wrapped in electrical tape for over a year) and thermistor (which had broken loose from it's metal casing, undoubted causing my "heater errors"), it now seems to be printing fine, though the X motor was making a very odd low level hum when I first started it up, which is strange, since that has absolutely nothing to do with any of the parts I just replaced.
Sigh.... Probably another component waiting to go out.
On one hand, it's nice that most of the standard-issue parts only cost between $8 to $15 and are usually pretty easy to swap out, but I wish they didn't have to be swapped out quite so often.
For those who are interested, the latest generation of resin printers just coming out on the market are finally catching up with filament printers in terms of build area, making them more useful for customization.
It used to be the
Moai printer
was the biggest resin printer on the market at 130 x 130 x 180 mm, but Wanhao (the company who makes my filament printers) recently released the
Duplicator 8
which has a 190 x 120 x 180 mm build area, and there are already competitors popping up like the
Tianfour Super King Kong
(which I want just for the name) which can do a whopping 200 x 170 x 280 mm (or 7.8" x 6.6" x 11.0")
That's actually a larger total print volume than my HD printer, and big enough to print a full-sized TARDIS or even a Bessie or Whomobile in one go!
The layer resolution is actually slightly less than my HD filament printer (25 microns instead of 20) though the Moai still has them all beat in terms of print quality with an insanely detailed minimum layer height of 5 microns!
Unfortunately, the costs for all three are still pretty steep. The Duplicator 8 will run you about $1100 on sale, while the Maoi costs closer to $1400, or $1700 for the Super King Kong.
Note: The Duplicator 8 is a DLP printer which uses a different voxel based print process, which means up close, it's
going to be more pixely
and have more distinct layer lines on it's curved surfaces than true SLA printers. But on the plus side, it's supposed to be faster, pretty user friendly, easy to maintain and replace parts on, and can apparently print using almost any UV resin.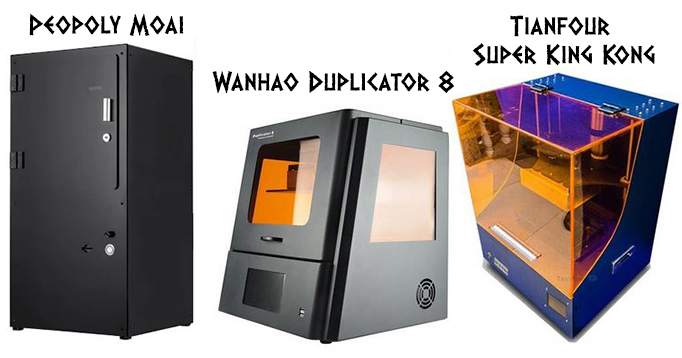 ---
Posts: 270
Joined: Thu Jan 05, 2017 6:45 am
Haven't been able to do as much design work lately as I'd like because of all my machine problems, but I did create tiny little functional control levers for the console! They'll be held in place with equally tiny 2mm screw from the underside of the console, and should pivot back and forth in their tracks.
They're slightly fatter than they'd be in true scale, but I'm quite chuffed that they printed at all. At only 2mm thick, I think they're the smallest parts I've ever successfully printed!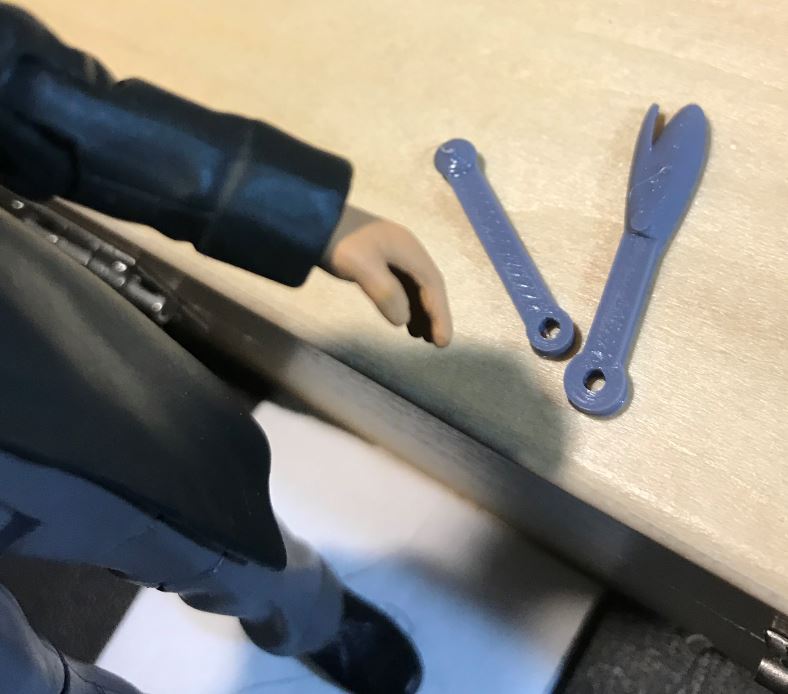 It also gives me hope that these tiny little rotating date/time/location components may actually print... at least on my HD machine or in resin.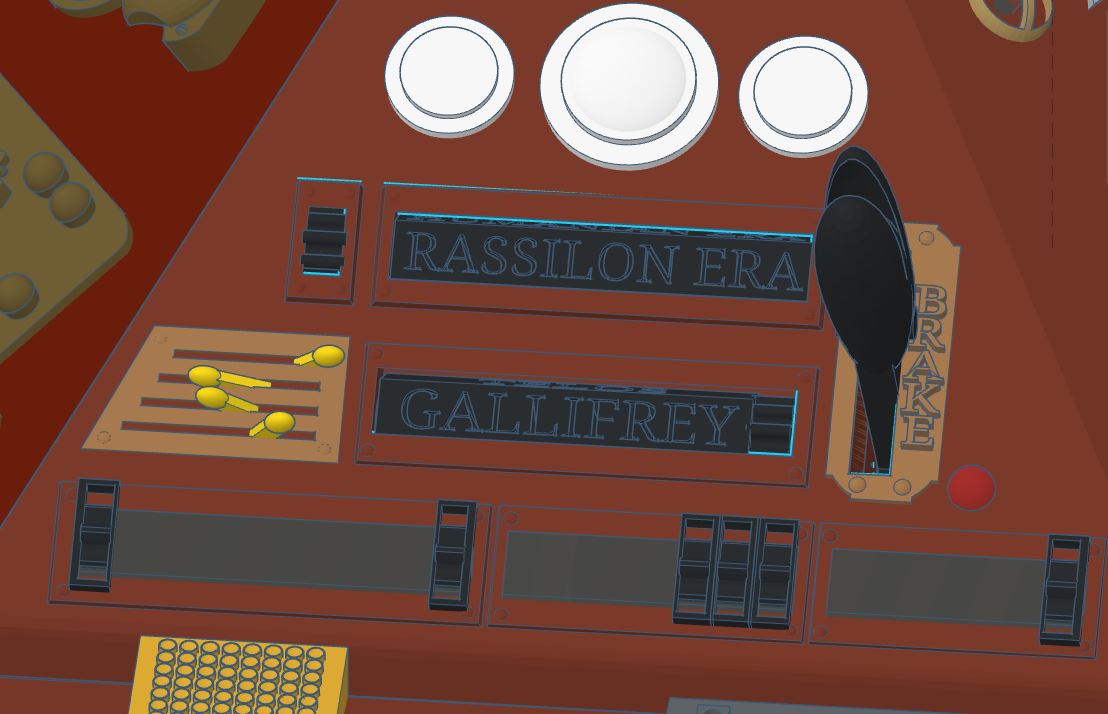 ---
---
Who is online
Users browsing this forum: No registered users and 2 guests