Posts: 2669
Joined: Tue Jun 11, 2019 2:41 pm
There are no words.
Or maybe there are, and I'm afraid of them.
---
Posts: 159
Joined: Wed Jun 12, 2019 6:08 am
Location: Sacramento, CA
Contact:
Finished painting all three Sensorites. (Aside from some dullcote lacquer which I'll be putting on tomorrow to take down the shine a bit.) We'll see if all my hard work on this and my Voord Figure are rendered moot in a couple of months.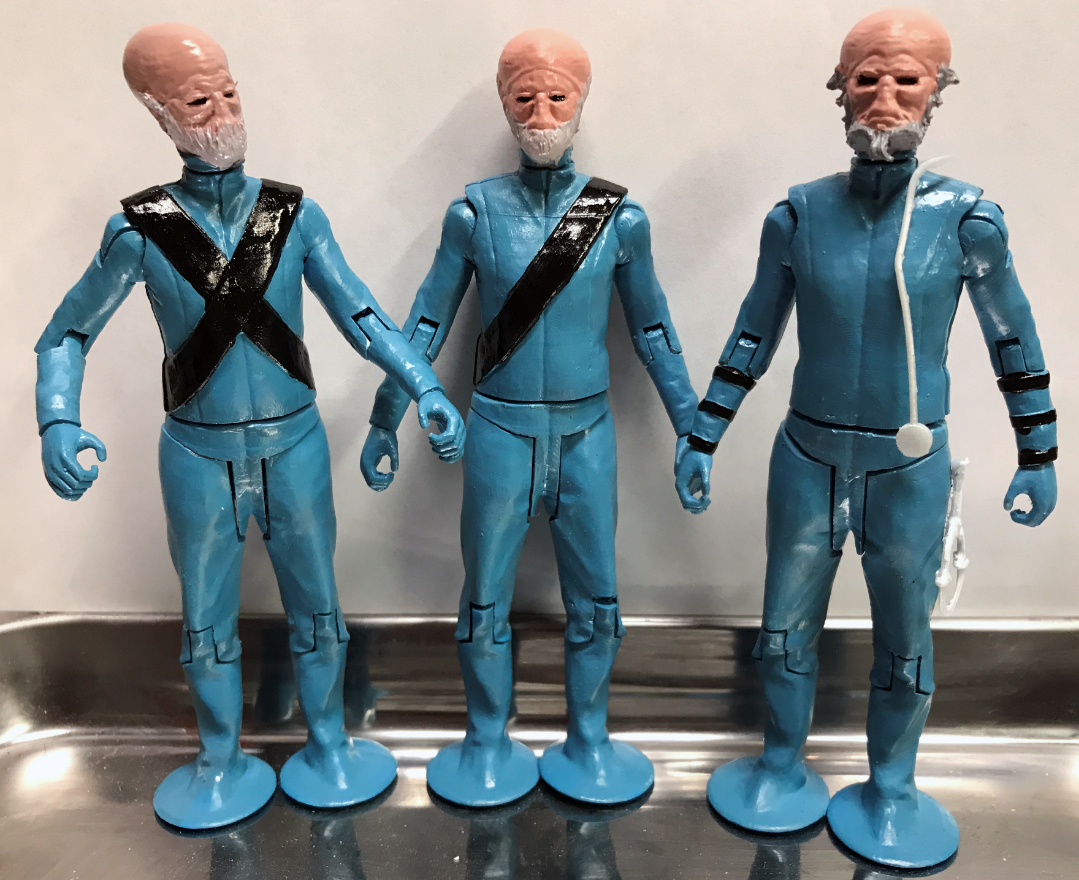 In the meantime, Erato should be going live in about 24 hours, joined by a couple of Wolf Weeds. I've designed him to be printed hollow so you can use him as a hand puppet similar to the Drashigs. (Or just stick one of those flickering LED candles underneath him if you want to give him a pulsating glowwy effect)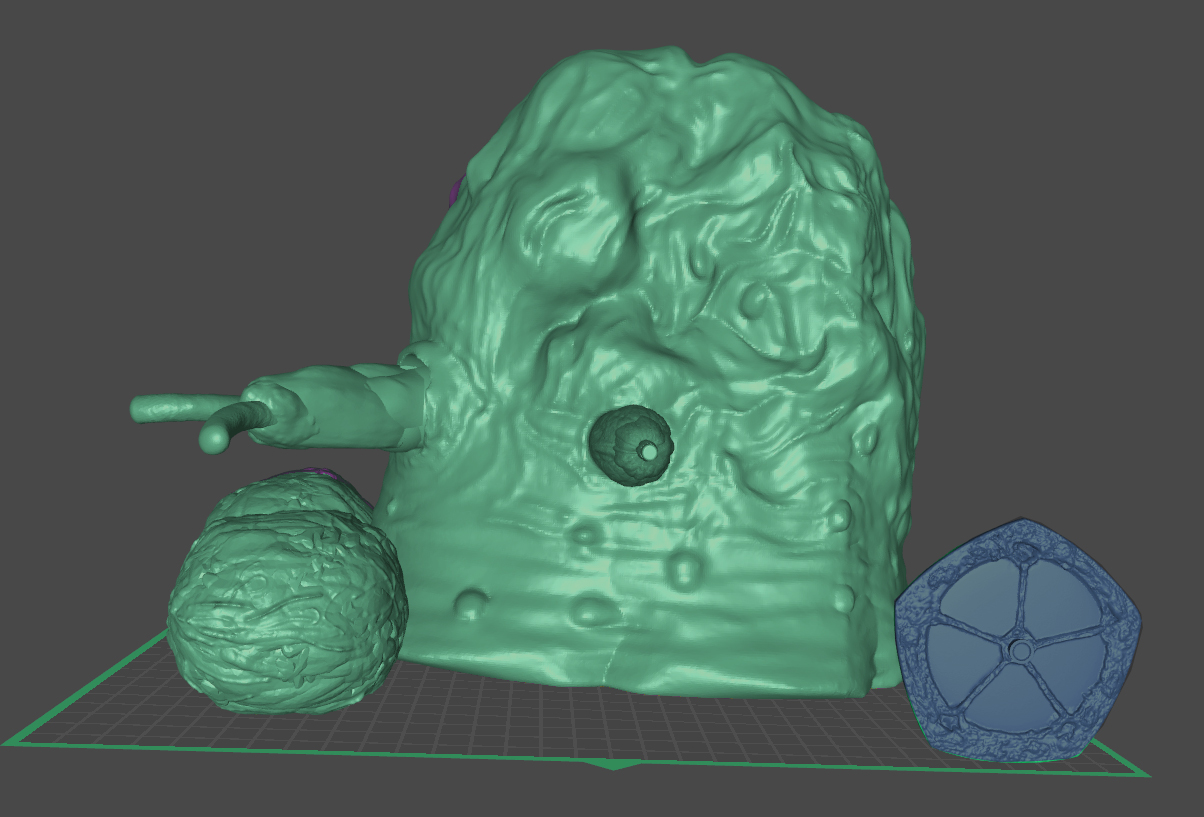 ---
Posts: 2669
Joined: Tue Jun 11, 2019 2:41 pm
Those Sensorites seriously blow me away.

Erato... Well, I refuse to use the word "blow" in anything regarding Erato.
---
Posts: 79
Joined: Mon Jul 06, 2020 7:04 pm
Stunning work as usual! When the final STLs are available I will have a go at printing on my Prusa MK3S+. They are working on a bigger enhanced version of their SL1 printer so I may get one when released!
#SAYNOTOSCALPERS
---
Posts: 159
Joined: Wed Jun 12, 2019 6:08 am
Location: Sacramento, CA
Contact:
035 - Erato & Wolf Weeds
Beta:
https://drive.google.com/file/d/1h9Cnfm ... SWvOXvP1te
Erato and the Wolf Weeds (which sounds like a horrible band name) are officially live and ready for printing. Rather than mess with the proportions any more, I compromised and created 4 different subfolders of the zip file with the body split into one piece (approximately 230mm by 240mm by 220mm tall), two pieces (which is enough to fit on my machine and may fit on a Creality if you turn it diagonal), four pieces (should definitely fit on a Creality), and eight pieces (for printers like my old Monoprice that don't have quite as much vertical print space)
Note that if you're going to try to print Erato in resin on a standard sized Photon or Elegoo Mars, you're going to have to cut those eighths pieces into sixteenths.
It's going to take me at least a week to print Erato, even using my super-fast machine, so while that's going on, I'm going to take a short break from design work and try to focus on finishing up the mountain of painting out in the garage. It's supposed to get up to 86°F tomorrow... in bloody April, so as is typical for California these days, we've blown straight past springtime and into full-on summer, which means I have a very short time left to get as much work done as possible possible before it becomes too hot to leave my paints and other heat-sensitive materials sitting out where they can be damaged.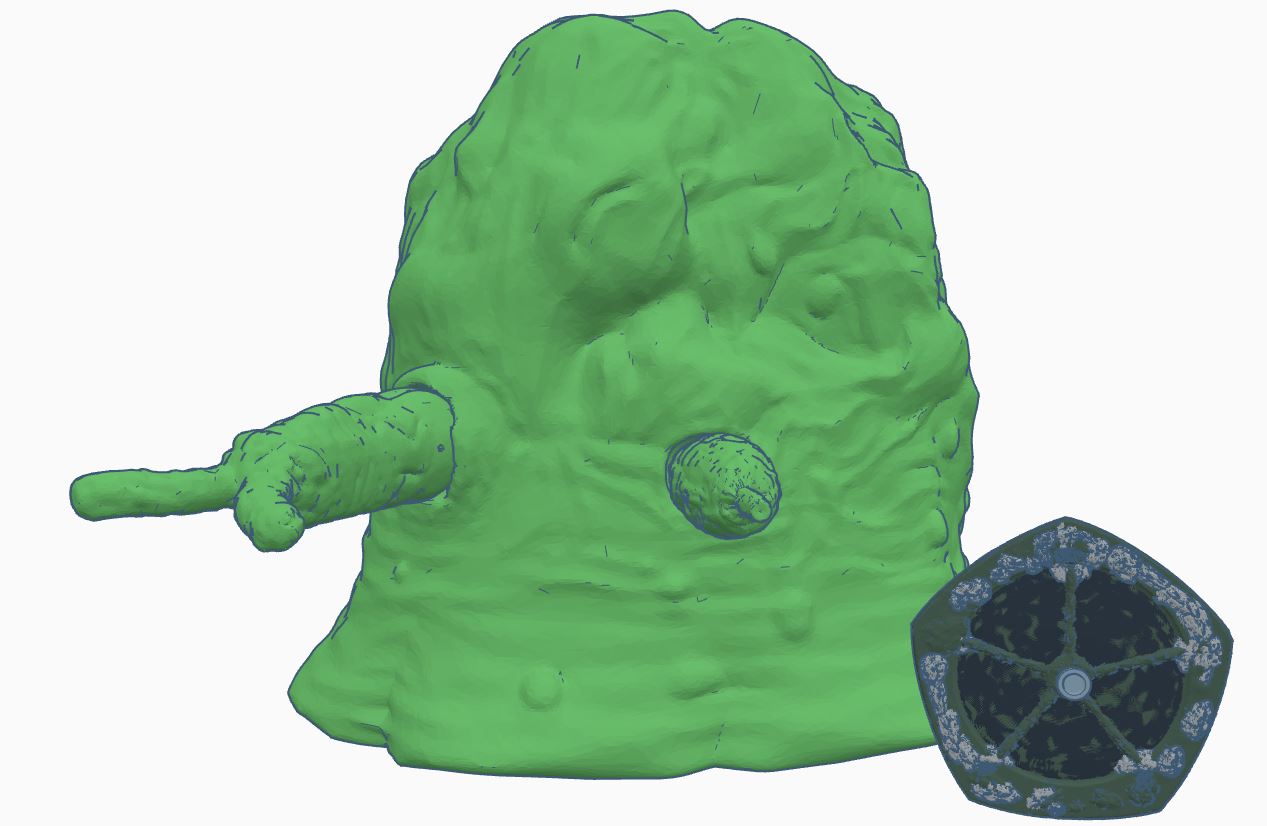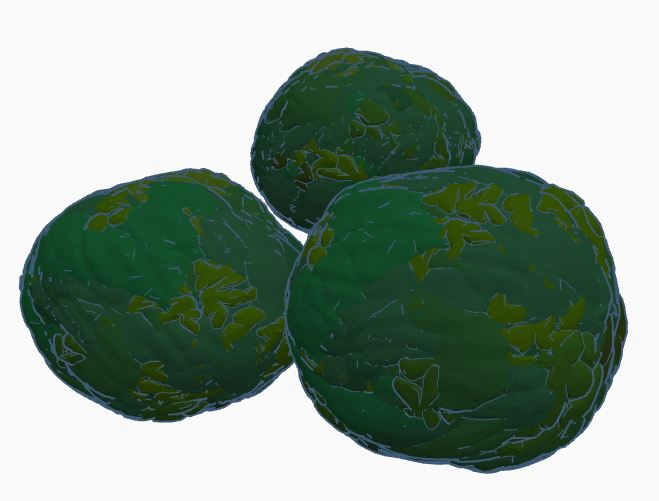 ---
Posts: 2669
Joined: Tue Jun 11, 2019 2:41 pm
[slow clap... that builds to thunderous applause]
---
Posts: 159
Joined: Wed Jun 12, 2019 6:08 am
Location: Sacramento, CA
Contact:
Here's a short video to commemorate finally getting the Chumbley fully assembled and working like it's supposed to... All except for the telescoping probe, which can't go far enough down in the body to be concealed when not in use, so I'm going to add a printable one you can just stick in the hole if you fancy (or just use a regular insect pin, like the ones used for the antenna.)
https://www.youtube.com/watch?v=pchFOwGralw
I've also made quite a bit of progress on the painting pile out in the garage. Below are a couple of figures I printed out ages ago but never got around to fully assembling. (The Toymaker Robot isn't finished, I'm just showing off the back-lit CRT screen in his chest, which turned out rather nicely.)
Unfortunately, while printing the lower half of the figure, it obviously had some hollow cavity somewhere that I failed to notice and rinse out properly that got filed up with nasty half-cured resin, so I'm sad to say, this particular figure is cursed with an extremely unpleasant case of paint-job ruining robo-diarrhea that keeps reasserting itself, just when I think I've finally got him all cleaned up.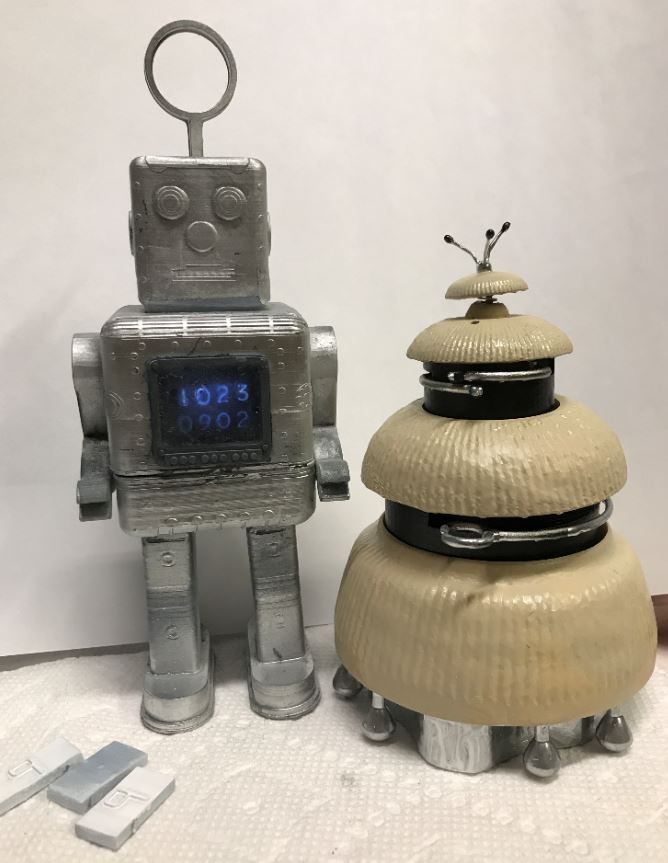 ---
Posts: 2669
Joined: Tue Jun 11, 2019 2:41 pm
Counting down to the prototype sale...
---
Posts: 159
Joined: Wed Jun 12, 2019 6:08 am
Location: Sacramento, CA
Contact:
skifflebits

wrote:

↑

Fri Apr 09, 2021 8:17 pm

Counting down to the prototype sale...
On track to be about another month. It all depends on how often life allows me to nip out to the garage and paint. It seems like there's always *something* cropping up that ends up eating into the time that I'd rather be spending working on my hobbies, but I'm more than halfway done with the painting pile and mainly down to detail work on the Toymaker Robots (which is going to be a nightmare) and two Dalek Emperors, plus a bunch of Quarks, Servo Robots, Keller Machines, and Dalek Transmats. However, before I can begin work on these pieces, I still need to put the final lacquer coating on a bunch of other finished figures that are currently strewn across my work tables taking up valuable painting space.
---
Posts: 159
Joined: Wed Jun 12, 2019 6:08 am
Location: Sacramento, CA
Contact:
Here are two Eratos (or half-Eratos) The one on the right is the original, which is absolutely massive, and too big to fit on most toy shelves. I reduced it to about 80% for the second printing, but it feels a little small, so I think I'll split the difference on the second try.
While you can't tell, both of these came off the printer pretty mangled. Thankfully, he's so blobby, I managed to patch the cracks with UV craft resin, and he came out looking passable. He is supposed to be a full hand-puppet figure like the Drashigs but considering he's about the same size as a Sontaran Scout Ship, some people may only want to print the front half if they're short on shelf space.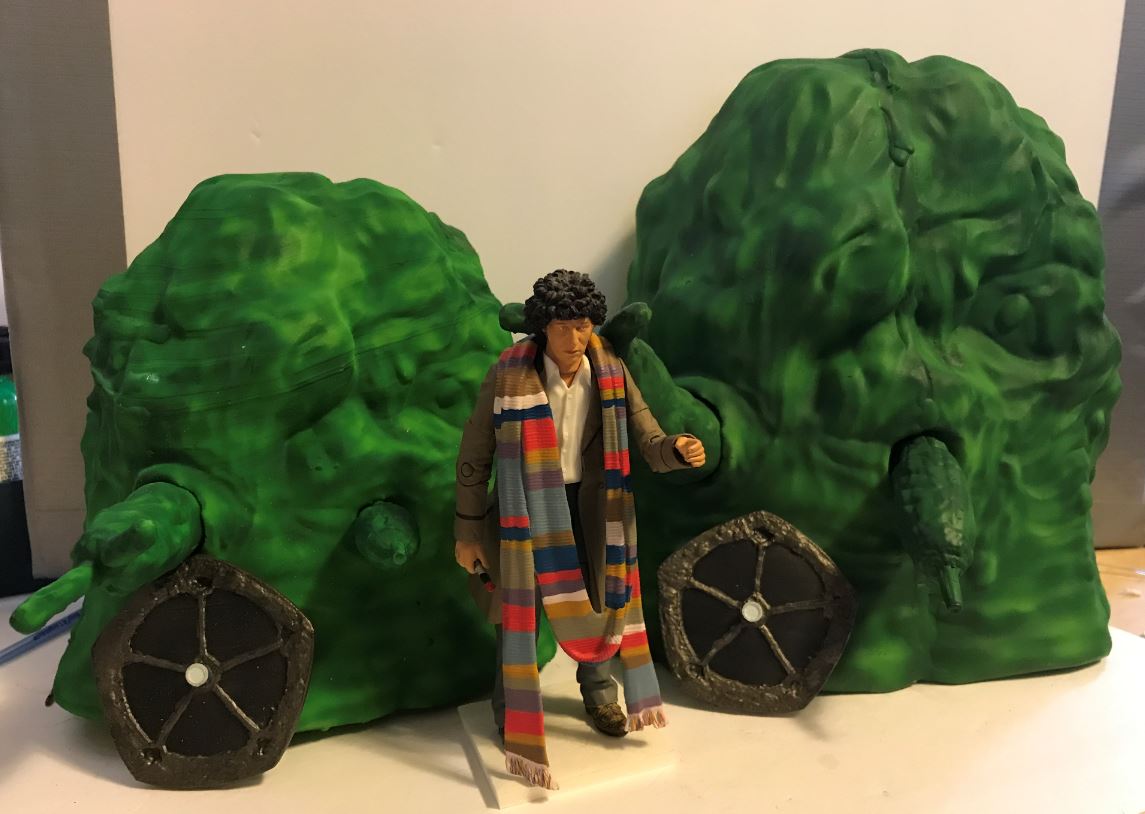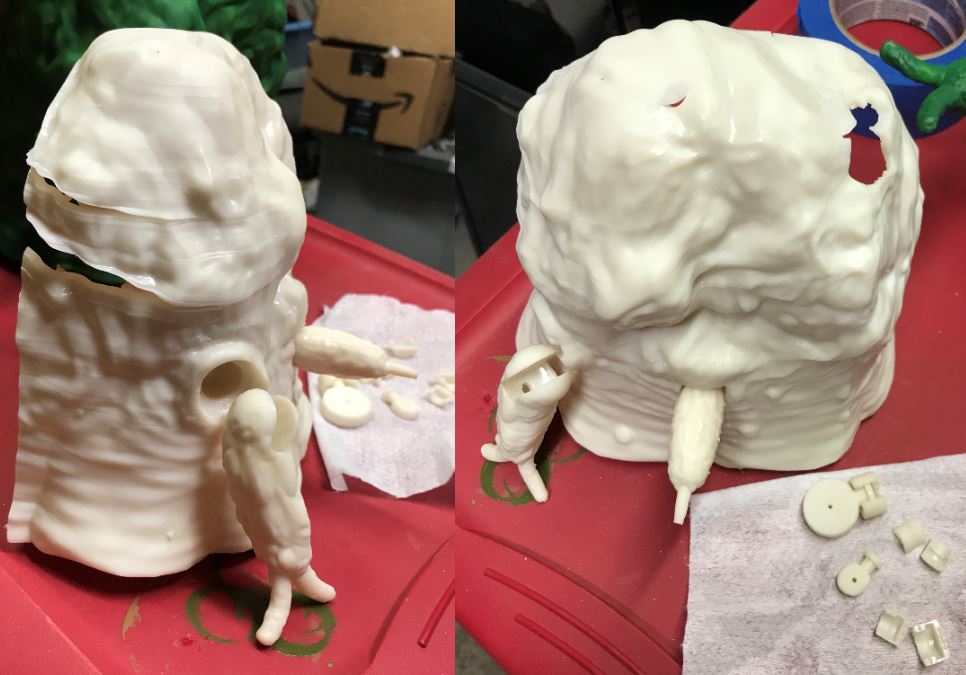 Figure #36 -- Aggedor
should be available for download in another couple of weeks. I've got all the basic design work done, I just need to add articulation and take one final clean up pass in Meshmixer, and then I can start test printing.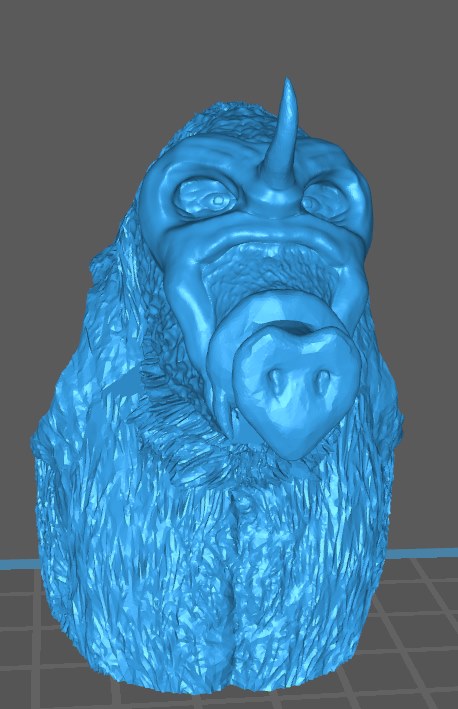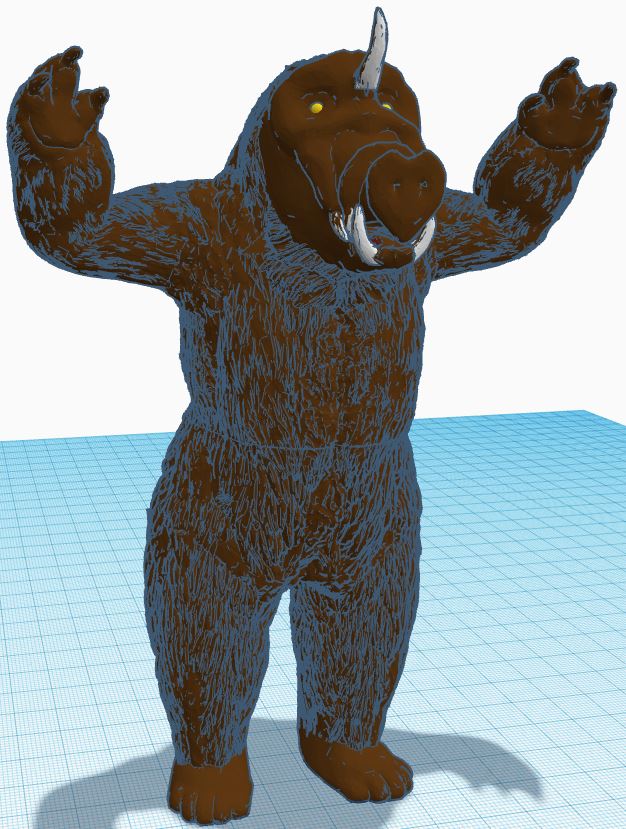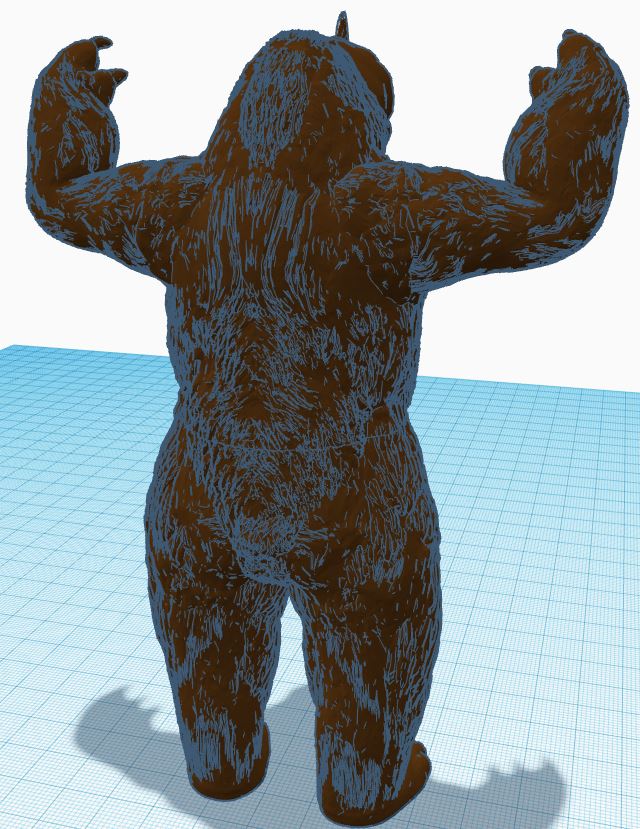 I'm quite pleased with how well this figure has turned out and I think my version looks a lot more screen accurate than the Eaglemoss figurine, which has always bugged me for some reason... I think because the face is slightly too shallow, and the coloration is a bit off.
In other news, it's officially become "too damn hot" to leave my paints and other temperature sensitive materials out in the garage in 90°F plus heat. While I'm nearing the finish line on my painting pile, I've had to haul all my supplies back indoors and will only be able to go out and work after about 10PM at night in short spurts when it's cooled down to a more tolerable level.
While I'm very close to finishing up the last of the figures for the shelf-cleaning sale (just a few Quarks, Toymaker Robots and Dalek Transmats left to do final detail work and assemble on), and have already started photographing, labeling, and bagging some items in preparation, I've got a lot of family stuff going on at the moment which takes precedence over hobby time. Both my wife and father are preparing to go in for surgery next month, and my grandmother was recently placed on final hospice care, and is expected to pass away sometime in the next week or so. I don't want to have to try to wrangle a large scale international eBay auction, recuperating relatives, and a death in the family all at the same time, so the sale will likely be put on hold until the end of May or even June depending on how quickly events proceed.
---